Update!
After a very patient wait, we have now received our new REC Audited Education Certificate and confirmation letter. We are extremely proud and cannot wait to frame these!
This is the gold standard in education recruitment and shows both our commitment to agency regulations and to safer recruitment.
Compliance and safeguarding children as an education recruitment business is extremely important and this accolade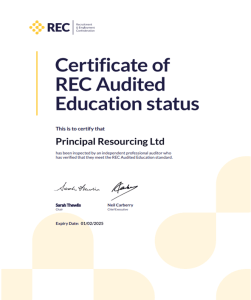 helps to cement our commitment. The REC are the leading body in recruitment and REC Audited is the most comprehensive regulatory audit of its kind, covering compliance as well as the REC Code of Professional Practice.
Well done to all of the team.